Our first time playing them so that's always exciting. Anyone heading down to Geelong?
Geelong is an absolute shithole. Will make that trip when they have their own stadium closer to bleak city and it's not on a school night.
Would love to see a USB tifo but, something similar to the old car keys for Frank.
There's quite a few people going, I've airbnb'd a house near the stadium, a bunch of us are arriving Saturday daytime.
Had been looking at a weekend in Torquay but the weather is awful.
I'll be down also, with accom nearby to the ground too. Let's boss em'!
Peach-baguetted!
It will be interesting to see how O'Neill & Bratten deal with Diamante. If they can keep him quiet then I can see us putting them to the sword. Kosta's pace will give their defence all sorts of trouble.






Western United FC v Sydney FC
Sunday, 1 December 2019
GMHBA Stadium, Geelong
Kick-Off: 4:00pm (Local) (4:00pm (AEDT))
Referee: Stephen Lucas
Assistant Referee 1: Daniel Ilievski
Assistant Referee 2: Tony Peart
Fourth Official: Jack Morgan
VAR: Craig Zetter
TV Broadcast: Live coverage on FOX SPORTS 505 from 3:30pm (AEDT) and Sky Sport 7 (New Zealand), Kayo Sports (kayosports.com.au) and MyFootball Live App, Live Fast and Data Free for Telstra mobile customers
Radio Broadcast:
Join the conversation on Twitter using the hashtag #WUNvSYD
To purchase tickets visit a-league.com.au/tickets
Western United FC Squad: 1.Filip KURTO (GK), 2.Aaron CALVER, 3.Brendan HAMILL, 4.Andrew DURANTE, 5.Dylan PIERIAS, 6.Connor CHAPMAN, 8.Panagiotis KONE, 9.Apostolos STAMATELOPOULOS, 10.Scott MCDONALD, 11.Connor PAIN, 12.Dario JERTEC, 13.Ivan VUJICA, 14.Max BURGESS, 15.Jonathan ASPROPOTAMITIS, 18.Besart BERISHA, 19.Josh RISDON, 22.Ersan GULUM, 23.Alessandro DIAMANTI, 26.Kwabena APPIAH-KUBI, 30.Ryan SCOTT (GK)
2-4 to be omitted
Ins: 15.Jonathan ASPROPOTAMITIS (promoted), 22.Ersan GULUM (promoted)
Outs: Nil
Unavailable: 20.James DELIANOV (GK) (knee – season)
Sydney FC squad: 1.Andrew REDMAYNE (gk), 2.Patrick FLOTTMANN, 4.Alex WILKINSON ©, 5.Alex BAUMJOHANN, 6.Ryan McGOWAN, 7.Michael ZULLO, 8.Paulo RETRE, 9.Adam LE FONDRE, 10.Milos NINKOVIC, 11.Kosta BARBAROUSES, 12.Trent BUHAGIAR, 13.Brandon O'NEILL, 16.Joel KING, 17.Anthony CACERES, 18.Luke IVANOVIC, 20.Tom HEWARD-BELLE (gk), 21.Harry VAN DER SAAG, 23.Rhyan GRANT, 24.Marco TILIO, 26.Luke BRATTAN
2-4 to be omitted
In: 16.Joel KING (promoted), 21.Harry VAN DER SAAG (promoted), 24.Marco TILIO (promoted)
Out: Nil
Unavailable: 3.Ben WARLAND (ACL), 19. Chris ZUVELA (knee)
I'm also concerned about Berisha; he will be pumped to be playing against us and he often finds a way to net a goal when he does.
Berisha with a point to prove is a bit of a worry. Having said that we have our best CB pairing possibly ever so they can manage him.
Tards by any other name etc
They've been nowhere near as dangerous the last 3 weeks as they looked early in the season, I would hope we win this comfortably. Need to win the midfield and keep Berisha quiet then we should have a few chances with our pace and passing up front. Wish I was in Aus would totally make it down to this one. Will definitely try and make it to our first match against Macarthur, however.
Pub for Sunday? Im not on social media so apologies if this has been plastered on fb or something.
Match preview is up on the front of the site:

I predict we will line up like this: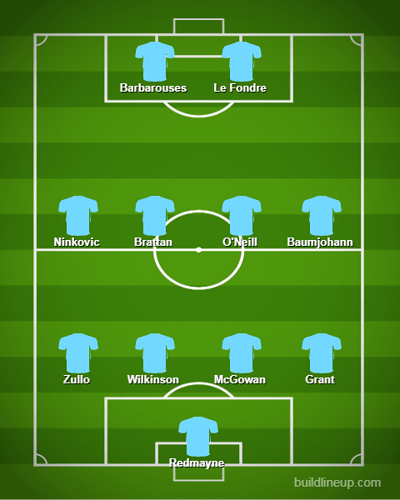 This game is The Cove's National Service trip. For those who are in Geelong for the game, and for those watching back in Sydney, you can find event details here: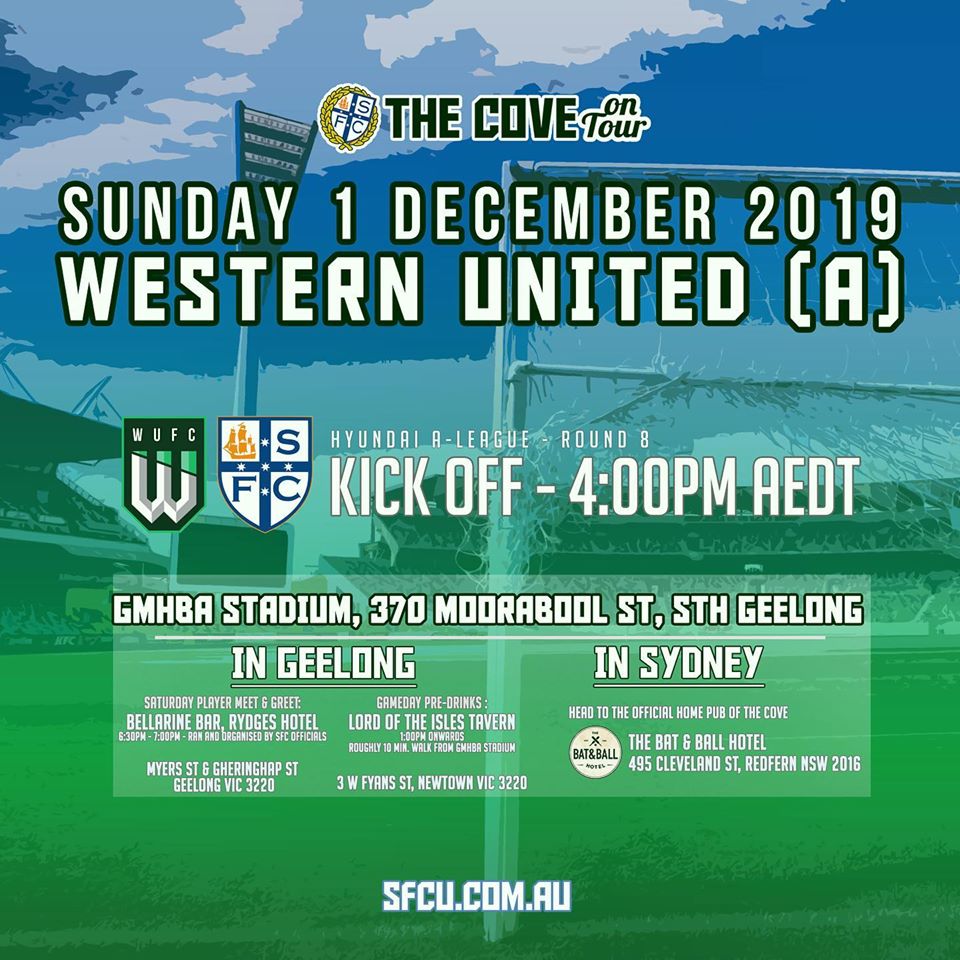 Key Statistics
Sydney FC have not kept a clean sheet in the last 8 games. The last clean sheet was the Grand Final against Perth Glory.
Milos Ninkovic only needs 1 goal to overtake Steve Corica as the third highest Sydney FC goalscorer. Both are currently tied on 30 goals, narrowly ahead of Adam Le Fondre 's tally of 28.
This will be the 48th stadium that Sydney FC have played a competitive game in. Optus Stadium in Perth was the previous new addition to this list.
Note: Appearances and goals only include league games, finals, FFA Cup, OFC and AFC Champions League and Club World Cup.
Taking a risk with that lineup.
Yep I'm way out there on a limb. I'm also just going to throw it out there - Caceres for Baumjohann on 60 minutes.